First National Bank & Trust
Since 1872, First National Bank has been helping communities grow and prosper. Our sole mission is to create community prosperity in all the communities we serve and at First National Bank that is part of everyone's responsibility.
REV - Ignite Your Business
First National Bank and Trust Company is now accepting applications for its annual REV event, a pitch competition offering entrepreneurs and business owners the chance to win up to $15,000. The bank partners with the DeWitt County Development Council (DCDC) to help provide this opportunity for business growth. Applicants will be judged on their pitch, marketing, personal investment level and exit strategy.
Read the full press release here.
Applications for REV 2020 are now open! To access the application, fill out the form below to get the fillable PDF.
---
REV 2019 took place on November 1, 2019 at First National Bank & Trust, located at 2 Kelli Court, Clinton, IL 61727.
Individuals applied and six were accepted to pitch their business. They had ten minutes to pitch their business concepts to a panel four of judges, and then the judges had 10 minutes to ask questions. After all pitches were complete, the judges deliberated and decided how they would distribute the $10,000. Meet our three winners below!
C & P Custom Printing - Awarded $5,000
With their winnings, C&P Custom Printing will purchase a new dryer for their screen printing production. The new dryer will greatly increase the capacity of their t-shirt printing business, which includes being an exclusive provider of Apple & Pork Festival apparel.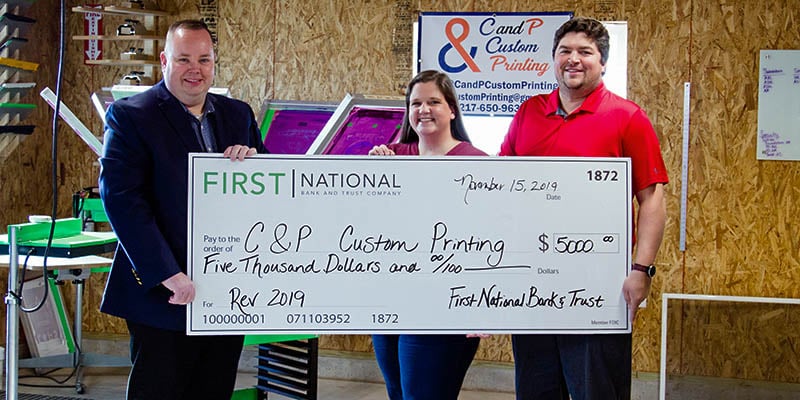 K & K Graphics - Awarded $3,000
K&K Graphics was awarded $3,000 to use toward the purchase of a new lift to allow him to do sign projects higher in the air. This will allow him to accept jobs he has previously had to decline.
The Yoga Space - Awarded $2,000
The Yoga Space plans to use the $2,000 to launch a new mobile app and purchase financial reporting software.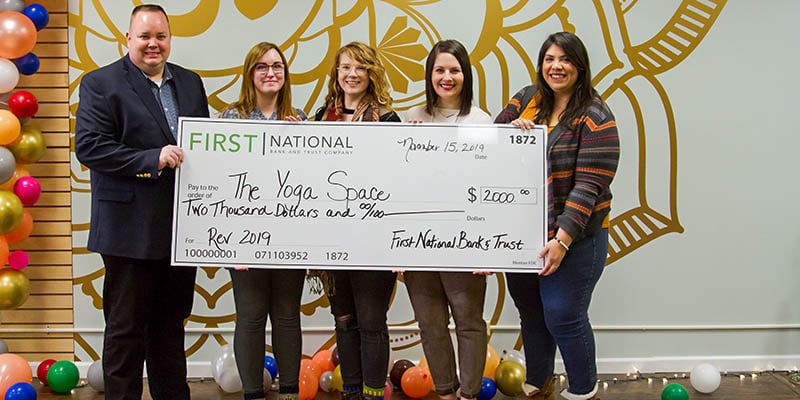 ---
REV 2018 took place on October 19, 2018 at First National Bank & Trust. Meet the three winners below!


HASLER'S DOUBLE D RANCH - Awarded $5,000
With their winnings, they will begin excavation and drainage work to allow for a parking area for those attending their horse clinics.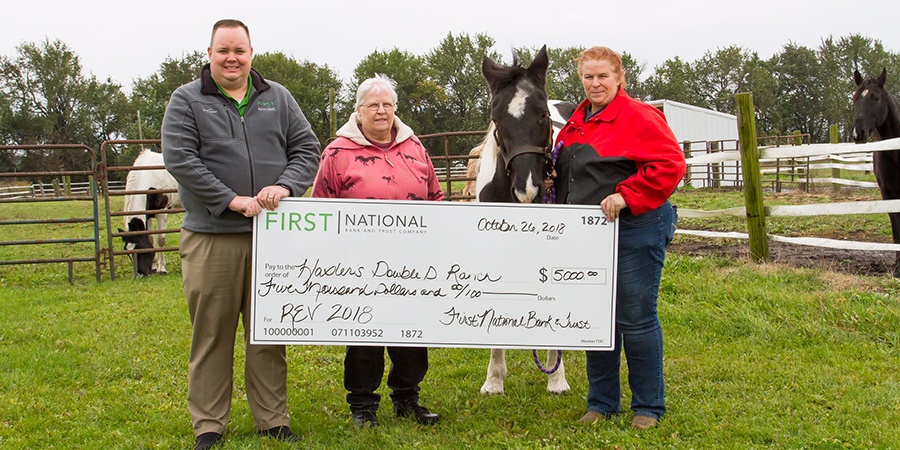 THE VAULT - Awarded $3,000
The Vault will use this money to purchase tables, chairs, etc. in order to be able to use the center as a rental facility, which will in turn bring in additional revenue, working toward the goal of becoming self-funded.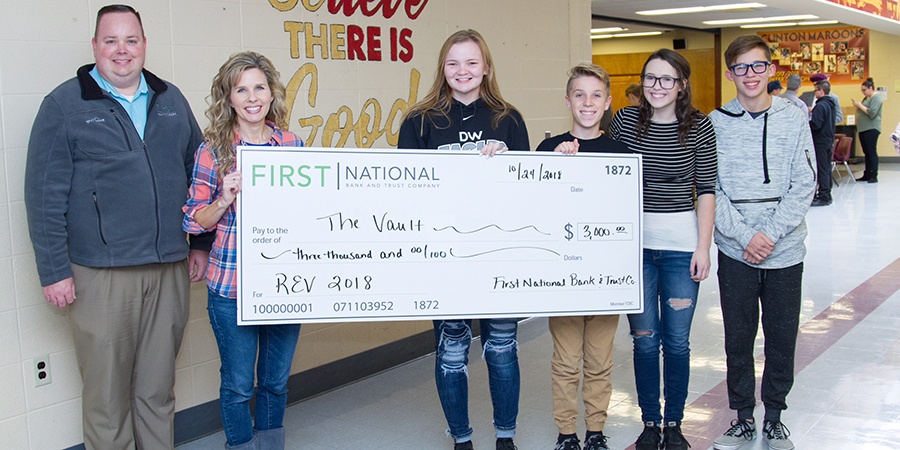 MY LITTLE WORLD CHILDREN'S BOUTIQUE AND MORE - Awarded $2,000
With the $2,000, Casie plans to customize a tent to bring to outdoor vendor events so that she has more space to display her merchandise and her brand is more visible.
---

REV 2017 took place on October 13, 2017 at First National Bank & Trust. Meet the three winners below!
THE BUTTERED BUN - Awarded $5,000
With the $5,000, The Buttered Bun will be purchasing a commercial stove.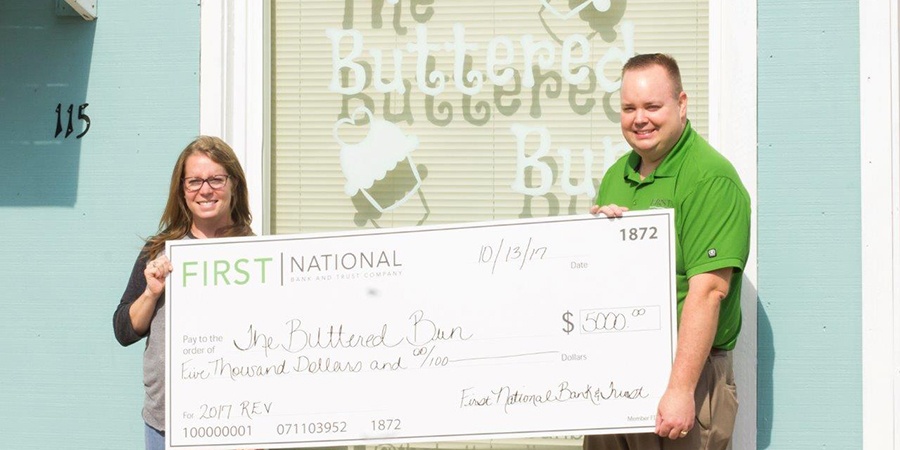 TRIPLE M FARMS - Awarded $3,000
Triple M Farms will put their $3,000 prize toward a down payment for a delivery truck.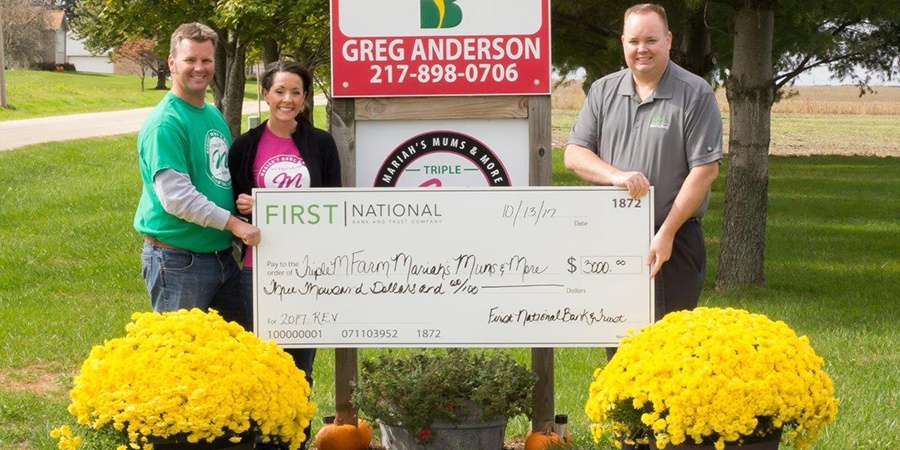 DIAL FARMS - Awarded $2,000
With the $2,000 prize money, Mason Dial, owner, will add additional livestock to his operation.